In the world you have tribulation, but take courage; I have overcome the world. (John 16:33)
Recently I received some questions about human suffering-- why God allows it in the case of some and not in the case of others. I summarized the questions as follows: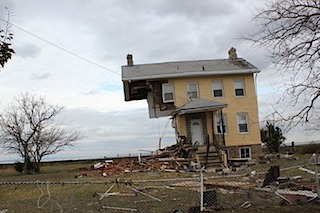 Question #1
Why do people experience such devastating adversity and calamities, like starvation, beatings, and homelessness?
Question #2
Why do people who are trusting in God still go through devastating adversity and calamities?
Question #3
Why are my needs being met by God, yet others I know, who are also trusting God, are not receiving what they need?
I decided to share my answers here. Hopefully they will be encouraging to you.
Answer #1
Bad things happen to people because of sin. Before there was sin in the world, there were no bad things that happened. Now, before you misunderstand what I've just said, allow me tell you a story.
Several years ago, I spoke at a Christian camp where all of the campers were special needs kids. It was the last night of camp, and all of the parents were there to see what their kids had learned and done. I was asked to give a message of encouragement, pointing the people toward Jesus Christ.
In my talk, I asked the question I thought many parents had probably asked themselves at least once, if not numerous times: "Why did God allow this to happen to me and my child?" I told them that because there is sin in our world, bad things happen even to good people. Bad things happen because we live in a world that is infected with sin. I then went on to emphasize that God can take what seems to be bad and use it to develop outstanding character in us, and make us more like him. After I was finished the leaders of the camp told me that the message I delivered was just exactly what they had hoped for.
A year later I was was at that same camp, visiting with the camp director, when some people came in to talk with the director about renting the camp. As I was talking with the director's wife, I overheard the conversation he had with the interested party. They told him about a camp they were at the previous year, where the speaker told them that the reason they had special needs kids was because they had sinned. They were quite upset with the message they had heard.
After these people left, I told the director that I was the speaker that they were referring to! The people had obviously not understood what I was trying to communicate, so let me try make this very clear. Bad things happen to everybody because everybody has sinned. We live in a world in which sin has made everything worse than God created it to be.
So, the question is really this: why do some people experience worse things than most other people? Jesus answered this very question, in Luke 13:1-5. Here's what the gospel writer says:
Now on the same occasion there were some present who reported to him about the Galileans whose blood Pilate had mixed with their sacrifices. And Jesus said to them, "Do you suppose that these Galileans were greater sinners than all other Galileans because they suffered this fate? I tell you, no, but unless you repent, you will all likewise perish. Or do you suppose that those eighteen on whom the tower in Siloam fell and killed them were worse culprits than all the men who live in Jerusalem? I tell you, no, but unless you repent, you will all likewise perish."
So, here Jesus talks about two disasters: 1) some people who were murdered by an evil ruler; and 2) some people who experienced an accidental death. In both cases he tells us that the people who experienced these tragedies were no greater sinners than everybody else around them who didn't experience a similar fate. Just because people experience bad things doesn't mean they're bad people. Even though we often think that others die "before their time", the fact is, we're all going to die.
But what about trouble that is less than death...as you asked, people who are "starving and beaten and homeless"? If people are experiencing bad things, it is probably because of one of these three reasons:
1) it is the natural consequence of a foolish choice;
2) it is because they are living in a sinful world; or
3) it is because God is trying to draw them to himself.
Jesus said that he was dying on the cross in order to draw all men to himself.1 The apostle Peter said that the Lord "is patient toward you, not wishing for any to perish but for all to come to repentance."2 The apostle Paul says that God "desires all men to be saved and to come to the knowledge of the truth."3
But no one will come to Christ in faith, unless they first humble themselves. The proud simply will not believe in Jesus, because they do not think that they have any need for him. So, in order for the proud to humble themselves in faith, they must first pass through circumstances which will humble them. They need to come to the end of their own abilities, and to a point where they will cry out to God, and place their dependence in him.
God may not be the direct cause of either one or two above, but he will use either of these to attempt to draw people to himself. God loves people enough that he will even take them through difficult circumstances in order to bring them to the point that they will finally admit to their own weakness and inadequacy. God doesn't want us to die in our pride. Either we humbles ourselves, or God will strive to humble us.
If your child was arrogantly making bad decisions that you knew were going to turn out poorly for him, even after you warned him, you might decide to let him experience the consequences of his bad decisions, in order that he might be humbled and make better decisions in the future. Sometimes we don't need to punish our children, we just need to let them experience the natural consequences of their disobedience. This may be what is happening in the lives of the people who are experiencing adversity.
Answer #2
On the other hand, it may be that God is simply using these circumstances to develop godly character in people who have believed in Jesus as God and Savior. The premier biblical example of this is Job.
Job was a man who experienced devastating problems, even though he was also a man whom God identified as "blameless". Why would God have allowed Satan to strike him with such terrible adversity? Well, you only need to read the last chapter of the book to find the answer to this question.
Job declares to God that through his adversity he has come to realize that he wasn't as good as he had thought he was nor as smart as he had thought he was. The painful process had been used by God to humble Job and to give him a much deeper knowledge of, and appreciation for God.
I have declared that which I did not understand, things too wonderful for me, which I did not know. I have heard of you by the hearing of the ear; but now my eye sees you; therefore I retract, and I repent in dust and ashes. (Job 42:3,5-6)
The apostle Paul had experienced a condition that he described as a "thorn in the flesh". It seems rather obvious that this was some kind of physical malady with which he was suffering. Many Bible scholars believe that he likely had some kind of problem with his eyes.4 Three times he asked the Lord to remove this affliction from him, but the Lord said "No". The apostle said that God allowed him to experience this "to keep me from exalting myself."5 But God intended it to have a positive impact as well. Paul said:
God has said to me, "My grace is sufficient for you, for power is perfected in weakness." Most gladly, therefore, I will rather boast about my weaknesses, so that the power of Christ may dwell in me. (2 Corinthians 12:9)
Finally, in the book of James, chapter one we read:
When all kinds of trials and temptations crowd into your lives my brothers, don't resent them as intruders, but welcome them as friends! Realize that they come to test your faith and to produce in you the quality of endurance. But let the process go on until that endurance is fully developed, and you will find you have become men of mature character. (James 1:2-4, Philips Translation)
Even though nobody looks forward to adversity, those who have learned to walk with God through it come to realize that it is really the only way we can truly come to know God intimately, and have a share in his character.6 I guess this is why the apostle said he had a three-fold goal: 1) to know Christ; 2) to experience the power of his Resurrection; 3) to experience the fellowship of his sufferings.7
Now, while everyone wants to pursue the first two of these goals, very few are working very hard to experience the third. We can only have a positive attitude toward adversity ("consider it all joy")8 when we have our focus upon heavenly things. This is the very mindset Paul had when he penned these words:
We do not lose heart: though our outer man is decaying, yet our inner man is being renewed day by day. For momentary, light affliction is producing for us an eternal weight of glory far beyond all comparison, while we look not at the things which are seen, but at the things which are not seen; for the things which are seen are temporal, but the things which are not seen are eternal. (2 Corinthians 4:16-18)
Answer #3
Years ago, as we were moving to pastor a new church in a new city, our family home sold very easily, and for a good price. A friend of mine, who was also moving to be the pastor of a new church in a new city, was having great difficulty in finding a buyer for their home. When he found out how quickly our home had sold, he jokingly remarked: "I guess God loves you more than he does me!"
On the other hand, I've experienced plenty of times when it seemed like other Christians whom I've known have had an easier time than I have. How can we account for this seeming variety of treatment by God toward his children who are seeking to put their trust in him?
After Jesus had been crucified and resurrected, he was having a conversation with his disciples. Jesus gave Peter a glimpse into his future and indicated what kind of a death he would experience. Peter immediately looked around at John, and asked Jesus: "What about him?" Jesus responded: "If I want him to remain until I come, what is that to you? You follow me!"9
The apostle Paul explained this phenomenon to the churches of Galatia very simply: "Each one will bear his own load."10 God gives each of us a unique path to walk,11 and we're responsible to him to humbly and faithfully walk that path with him.12 It has been my observation throughout my life that we humans generally think that our problems are more severe than others'. But there are certainly times when it seems that friends or family members of ours are suffering much more than we are, even though they are seeking to trust the Lord like we are. Why is this so, and what can we do?
It's possible that you are suffering as much as they are, but that you have a different perspective than they do. When the apostles Peter and John were beaten for preaching the gospel, how did they respond?
So they went on their way from the presence of the Council, rejoicing that they had been considered worthy to suffer shame for his name. (Acts 5:41)
Apparently they were doing just as the apostle Paul instructed the Colossian church to do:
Therefore if you have been raised up with Christ, keep seeking the things above, where Christ is, seated at the right hand of God. Set your mind on the things above, not on the things that are on earth. (Colossians 3:1-2)
Surely the Lord has taken you through difficult times, and you can use those experiences of God's comfort, in turn, to offer comfort to others.13 Always remember that it's probably not words that they need, but rather just your caring presence there with them.
Joseph Bayly, author of The View from a Hearse, lost three children; one died at birth, another at about five, and the third in his teens. He tells about a time he was sitting in the hospital as he was awaiting word from the doctors regarding one of his children. One man came to visit and talked incessantly. He only wanted the man to leave. Another man came and just sat beside him, said nothing, but simply shed some tears with him. Joe Bayly didn't want him to ever leave!
The problem of suffering will always be with us, until we see Jesus. These are the most helpful words I think I can share regarding suffering and adversity: when God allows adversity into our lives, he is saying, "Come closer." A godly man I knew said, "When God puts us on our back, it is so we will look up."
The trials of life are what God uses to draw us into a closer relationship with him. They are also what he uses to make us more like his Son Jesus. I don't become more like Jesus when I'm water skiing. I love to water ski, but it's only when I'm going through adversity that I become more like my Savior. It's for this reason that I've come to the conclusion that it's in the middle of adversity when life really happens.
Therefore--
Consider it all joy, my brethren, when you encounter various trials. (James 1:2)
1 And I, if I am lifted up from the earth, will draw all men to myself." (John 12:32)
2 2 Peter 3:9
3 1 Timothy 2:4
4 In his letter to the churches of Galatia, Paul twice seems to indicate that he had a problem with his sight: "I bear you witness that, if possible, you would have plucked out your eyes and given them to me." (4:15) "See with what large letters I am writing to you with my own hand." (6:11)
5 2 Corinthians 12:7
6 The Bible says the Jesus "learned obedience from the things which he suffered. (Hebrews 5:8) If the Son of God needed to suffer in order to learn, do we think we can become like him through another, easier process?
7 Philippians 3:10
8 James 1:2
9 John 21:22
10 Galatians 6:5
11 For we are his workmanship, created in Christ Jesus for good works, which God prepared beforehand so that we would walk in them. (Ephesians 2:10)
12 He has told you, O man, what is good; and what does the Lord require of you but to do justice, to love kindness, and to walk humbly with your God? (Micah 6:8)
13 Blessed be the God and Father of our Lord Jesus Christ, the Father of mercies and God of all comfort, who comforts us in all our affliction so that we will be able to comfort those who are in any affliction with the comfort with which we ourselves are comforted by God. (2 Corinthians 1:3-4)
© 2013 - mortalmusings.com